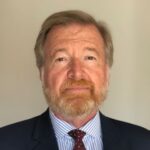 Professionnel de la sécurité industrielle à haut niveau, expert dans la gestion de projet, la planification et la mise en oeuvre de vastes projets de sécurité dans un environnement rapidement évolutif et multiculturel, en particulier dans le Golfe Persique (Qatar, Arabie Saoudite, EAU, Bahreïn). Expert en sécurité physique des infrastructures, en audits de sécurité (politiques, plans et procédures : Security Master Plan) et en stratégie de gestion et réduction de risques.
Analyste de haut niveau spécialisé dans les affaires internationales, l'évaluation des risques sécuritaires de nombreuses régions, et la rédaction de rapports de fonds sur des questions stratégiques.
Chargé de cours dans l'enseignement supérieur, formateur expérimenté habitué à diriger des stages de formation professionnelle pour cadres, et à intervenir comme conférencier lors de conférences et de séminaires internationaux. Intervenant dans de nombreuses conventions de sécurité aux États-Unis ainsi que dans les pays du Golfe.
Auteur en langue anglaise d'ouvrages publiés et de plusieurs cours de formation professionnelle en sécurité.
Strategic Security: Forward Thinking for Successful Executives. J Perois, 2019, CRC Press. Ce livre a reçu le prix de l'American Society for Industrial Security (ASIS) récompensant le meilleur livre sur la sécurité de l'année 2020.
Getting the First Step Right: A Risk Assessment Guide for the Security Manager. J Perois, 2016, ASIS International (discontinued).
Theories of International Relations and the Private Security Analyst: The Scope and Limits of Theoretically Informed Analysis (University of Leicester, 2017).
Security Challenges and Diplomatic strategies: To what extent do balance of power theories explain the political behaviour of Persian Gulf States (Staffordshire University, 2010).
Numerous publications in the Professional Security Press.
Géopolitique du Moyen-Orient contemporain
Mondialisation, gouvernance globale et Diplomatie
Sécurité Internationale
Géopolitique du monde anglo-saxon